Sera's Introduction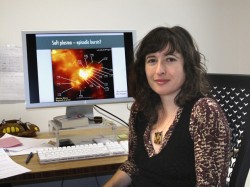 Sera Markoff
Associate Professor
Anton Pannekoek Institute for Astronomy
University of Amsterdam
Science Park 904, rm. C4.115
1098 XH Amsterdam, Netherlands
T +31 20 525 7478/7491
s.b.markoff@uva.nl
I work at the interface of Astrophysics and Astroparticle Physics, and am interested in a variety of problems relating to the accretion process especially around black holes, both big and small.
I am also the Director of the Master's Program in Astronomy & Astrophysics.
Just a quick note, Dr. Salomé Dibi successfully defended her thesis (and did a great job!) on 1 July, so that's the third one out of the nest (who survived me…)! Congratulations!
Continue reading →
The most important recent news (besides Salomé's defense on 1 July!) is that I have been selected for the 2015 Beatrice Tinsley Centennial Visiting Professorship at UT Austin (where a "distinguished mid career or senior professor is invited to visit for up to a semester"), to spend some months in spring 2015 at the Astronomy Department there! I'm super excited, …
Read More →
Cali

Aug 01, 2014 - Aug 12, 2014

IAU312/China

Aug 16, 2014 - Aug 30, 2014

Transients KSP?

Sep 09, 2014 - Sep 10, 2014

Copenhagen?

Sep 18, 2014 - Sep 19, 2014