Sera's Introduction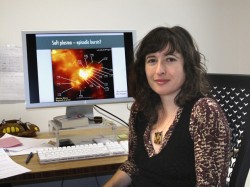 Sera Markoff
Professor
Anton Pannekoek Institute for Astronomy
University of Amsterdam
Science Park 904, rm. C4.115
1098 XH Amsterdam, Netherlands
T +31 20 525 7478/7491
s.b.markoff@uva.nl
I work at the interface of Astrophysics and Astroparticle Physics, and am interested in a variety of problems relating to the accretion process especially around black holes, both big and small.
As of January 2015 I ended my stint as Director of the Master's Program in Astronomy & Astrophysics (2011-2014).
Today was Earth Day but also the day of many Marches for Science across the planet.
We did our part here in Amsterdam (see also marchforscience.nl): a group of us from the astronomy department here at University of Amsterdam set up a booth and hung out all day answering questions, showing the solar telescopes we couldn't use because … Continue reading →
Sorry for the delay in posting, I was knocked out for a few days with something but catching up now. So EHT did end up triggering the final night on 11 April! Things went really well, and one of the things I really wanted to see happen, happened! My main role in all this was to help organize and coordinate …
Read More →
Microquasars 2017
September 25, 2017 - September 29, 2017
Location:
Porquerolles, France
CTA Collaboration Meeting
November 6, 2017 - November 10, 2017
Texas Rel Astro meeting
December 2, 2017 - December 13, 2017